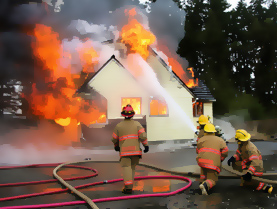 At age 65, seniors are more than 2x as likely to die in a fire than younger adults. There are many contributing factors to this exponential increase. In this article we will go over some of these reasons, and make some suggestions that can help up the odds of surviving a home fire.
Safety Precautions:
Stay Low – If you own your own home, try to make sure you sleep on the bottom floor. In the case of a fire this will greatly increase your chances of safely escaping a fire. It is essential to place smoke alarms in every sleeping room. It is also necessary to place a smoke alarm outside the sleeping areas so that early detection of fire can be achieved faster. Be sure to install a telephone right next to your bed in any sleeping area, so that calling for help can be done right away. While looking for an apartment home to live in make sure that there is a sprinkler system installed. A sprinkler system can put out the flames of a home fire much quicker than the fire department can respond. NFPA Fire Safety Standards.
Get the Right Alarm System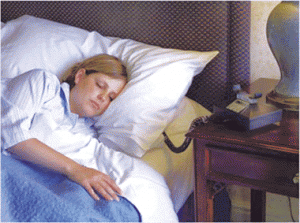 Most fire fatalities happen when people are sleeping. This is because rather than waking up and individual, smoke and C02 inhalation, put the victim in a deeper sleep. Because of this it is essential to have the appropriate early warning system. For individuals with good hearing this is as simple as installing several smoke detectors. If however anyone in your home is deaf or severely hearing impaired, then installing an alarm that uses vibration and flashing lights is an essential alternative. It would also be a wise decision when picking out a mattress to choose one that has a fire barrier fabric such as this one.
Do a Fire Drill
Perform your own fire drills. By doing this it can make you aware of any weaknesses in your plan, such as your ability to hear the alarms, and your ability to react quickly enough to get out safely. If there is anyone in your home including yourself that cannot get out of the home unassisted, make sure that someone else in the home is designated to assist. Be sure to have a backup plan in case the person is not at home at the time of the fire.
Window Safety
Be sure that every door and window in your home can be opened. Any locks or pins that are in place to close the door or window should be easily removed from the inside. Some windows have security bars or screens. These should be equipped with emergency release latches so that they can be opened quickly and easily in the case of a fire. This will not make the situation unsafe as the bars will be very secure from the outside. Make sure that the windows have not been sealed shut or nailed closed. If you cant open a window in your home, call someone out and make sure you can get out of every window and door in the case of a fire emergency.
Phone line access
Make sure to keep your cell phone with you at all times, in addition make sure to have a land line next to your bed with easy access to a list of emergency contacts, so that in the event of being trapped in your room in a fire you can easily contact the fire department.
Related posts: