Living in the Rocky Mountain region means that there are endless opportunities to try to hand at winter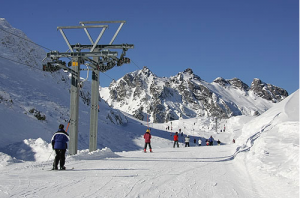 sports. But often during your younger years the demands of building a career, raising a family, and the other pressures of life can get in the way of trying to cultivate rewarding hobbies such as skiing. Never tried your hand at skiing before? Well there's no time like the present to grab your skis, hit the slopes, and give it a go! And there are more reasons to try than simply to keep fit too. Research from the Alzheimer's Research & Prevention Foundation has found that taking part in regular physical exercise will reduce your risk of developing Alzheimer's disease by 50 percent. What better reason to head outdoors and try your hand at a fun new sport like skiing?
Dementia and Exercise
More than 5 million Americans live with some form of dementia, the most common form of dementia being Alzheimer's disease. According to the Alzheimer's Association, Alzheimer's disease is the sixth most common cause of death in the United States. Living with Alzheimer's disease or dementia can be difficult for both the sufferer and their families. And for the family members of someone with dementia it can be difficult to know what they can do to help. But the message here isn't one of doom and gloom. You can still live your life to the full if you've been diagnosed with dementia, and there's no need to let the illness prevent you from doing anything. Following an early diagnosis if you continue to keep both your mind and body active by socializing regularly and taking part in regular physical activity then you can keep the more active symptoms of the disease at bay and continue to live as normal a life as possible. And that's where skiing comes in!
Find a Ski Class that Suits You
If you've decided you'd like to learn to ski, either to improve your body and mind or simply because it sounds like fun, then the first thing to do is to enroll in a class: don't try to jump in at the deep end and jump on your skis without first undertaking some tutelage. There are ski schools across Colorado that have lesson programs for every age and every ability, so do your research and find the school that's right for you. You could even invite some of your family members to join the classes with you, giving you some much-needed moral support for that first slope, and someone to pick you up when you fall over too! Skiing is a fun activity to enjoy with your kids and grandkids, so why not turn your new-found passion for the snow into a family day out?
Apres Ski
According to Snow Link, Seniors are one of the fastest growing groups of participants in winter sports. So as well as taking up skiing for the exercise potential to help  decrease your risk of dementia (and increase your chances of having fun)you could also take up skiing as a great way to meet new people and socialize with like-minded individuals. Colorado based groups like the 70+ Ski Club are designed specifically for skiers over the age of 70 to socialize and find some new people to ski with. It doesn't matter whether you've been skiing for decades or a couple of months: the only requirement for joining the group is that you're over 70! There are groups like this aimed specifically for seniors all over the state, so finding one that's right for you should be easy. Being part of a club is also useful if you are suffering with the early stages of dementia, as it means you will always have someone with you when you head for a ski trip, or someone will always know where you are: important safety points that are worth considering.  All you need to do now is learn to ski!
Modern Skiing is Easy Skiing
If you have skied before, but not since you were a kid yourself then you're in for a treat if you do decide to return to the slopes. Modern skiing is much easier and less physically taxing now, thanks to improvements made to the skis themselves. Skis are now shorter and more hourglass shaped, making them easier to carry, easier to wear, and much better suited for the slopes. Why not book yourself a lesson, hit the slopes, and find out for yourself?
Thank you to Melissa Walker for this article.
Related posts: