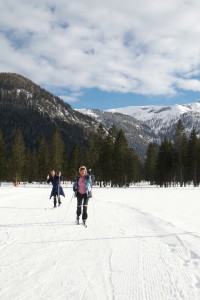 If you've never tried your hand at winter sports before, you're probably not going to start now, right? Well why not? You're living in one of the best destinations in the world for skiing and snowboarding, and despite how crazy winter sports may look on the television, it's actually a lot of fun for people of all ages, and it's great exercise, too. Now, before you laugh it off, thinking 'but winter sports are just for the kids', listen to this – the oldest Olympian at the 2010 Winter Olympics was a skier (51 year old Prince Hubertus of Hohenlohe-Langenburg), and Clyde Getty, the oldest freestyle skier in the world, is in training to partake in the 2014 Winter Olympics, when he'll be 52 years old. Skiing is actually a great sport for the older generation to take up, as you can make it as gentle, or as intense, as you wish. We all know how important health and fitness is, especially as we get older, so what are you waiting for?
Why Start Skiing Now?
If skiing is all about increasing overall health and fitness, you're probably wondering why you shouldn't just take up walking, swimming, or yoga instead, something a bit less extreme. The truth is, you can take up any of these hobbies, and you should, but there are aspects of skiing that lead to benefits that you simply wouldn't get from 20 minutes on the treadmill, or 15 bicep curls, for example. As we age, we begin to not only lose muscle and strength in our limbs, but we also start to struggle with balance. The concept of skiing, which is largely about staying upright in challenging conditions, can really help rebuild lost muscle, and can also help condition the body and improve balance. Studies have found that older people who complete a 12 weeks skiing course have, on average, a 16 percent increase in leg strength, a 6 percent increase in jumping height, and generally consider themselves to be stronger and more social than before. If that's not a good reason to take up skiing, then what is?
Getting Started
It goes without saying that skiing for the first time even when you're young and fit is a nerve wracking experience, never mind when you're a bit older and not quite as spritely as you once were, so don't be tempted to jump in at the deep end, so to speak. Instead, take it slow, and get some good practice in before hitting the slopes. The Iglu Ski experts recommend that beginners 'book a taster at your local ski slope or snowdome'. While indoor skiing is certainly no match for the experience you'll have out on the mountains, it can help you learn the right body movements and positions that you'll need to use on the slopes, and will also get you accustomed to wearing skis, which is very strange at first! There are plenty of indoor ski centers throughout the Rockies, where you can practice your skills without having to worry about dealing with chairlifts or heavy snowfall. One of the most popular is Progresh in Thornton, Colorado, which offer adult ski classes that are suitable for complete beginners.
Finding the Right Resort
While some may feel happy and comfortable to start off at your nearest ski resort, regardless of the types of trails on offer or the facilities available, others may want to do some research to find a resort that specifically caters to the older generation, who perhaps aren't particularly interested in the après-ski party atmosphere. In terms of learning the ropes, Aspen-based Bumps for Boomers is dedicated to teaching those in their 60s, 70s, and even 80s how to ski. Once you're feeling a little more confident, opt for a resort with great slopeside amenities, such as the Keystone resort which offers cozy fireplaces and spas for relaxation, and down-to-earth dining facilities away from the hustle and bustle of the bars and clubs.
Have Fun!
Will you turn out to be the next great Olympian? Who knows! However, even if you're not quite up to the standard of Julia Mancuso or Lindsey Vonn, don't worry! Taking up skiing isn't about becoming a professional, it's simply about doing something different, doing something to keep you fit, doing something to keep you young! Some people swear by long walks, a shot of whiskey, or even a toy boy to keep them young, but skiing is the real answer!
Thank you to Melissa Walker for this article.
Related posts: